The Civic and State Square revitalisation reimagines the green heart of Darwin city into a welcoming and interactive space.
The precinct is an important part of the Darwin City Deal and will provide community and event space that links the Waterfront with the city centre, creating an activated and lively place for all.
It will become a:
tropical, green, cool and shaded oasis within the city
spacious place for events, festivals, gatherings and displays.
Scope
The Civic and State Square revitalisation includes the following infrastructure projects:
State Square Art Gallery
Central heart
Liberty Square.
Below is the project's concept map. Click the image to enlarge.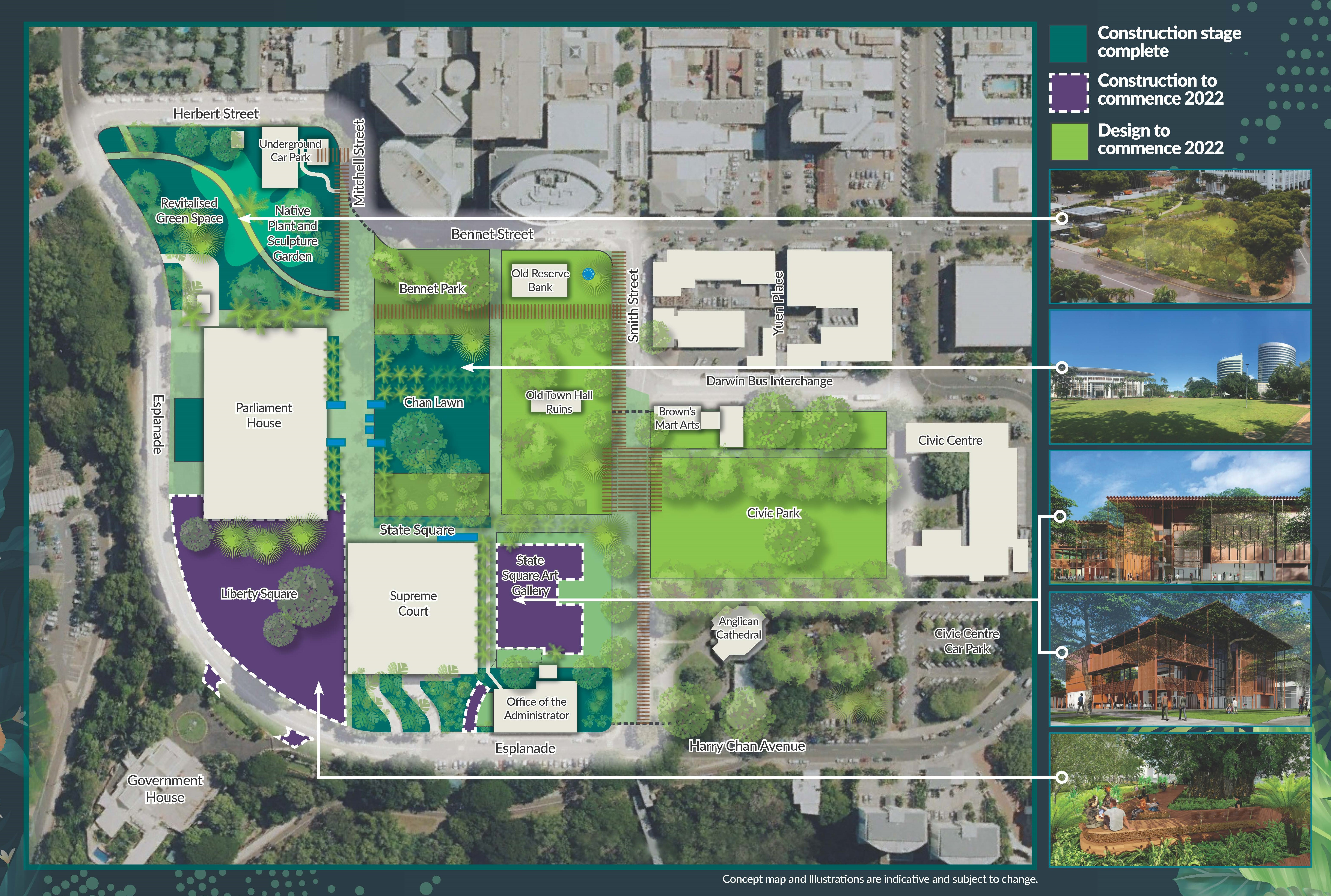 For a more detailed version of the concept map, view the Civic and State Square revitalisation fact sheet PDF (5.4 MB).
Project update
The next stages of the project include:
constructing the State Square Art Gallery and
completing a detailed design for the remainder of the precinct ahead of construction.
A tender for the remaining stages was released on 26 April 2022 and is expected to be assessed and awarded in mid-year, with construction of the gallery to commence shortly after.
The remainder of the precinct will include:
constructing an iconic and contemporary art gallery
an inviting and interactive central heart
sheltered pedestrian walkways connecting the precinct and surrounding areas
Aboriginal artwork to celebrate our city's rich cultural history
wayfinding
lush shading and landscaping
water features.
DIPL conducted stakeholder consultation from 3 May 2022 to 27 May 2022 providing an opportunity to comment on the next stages of the project.
Contact
For more information, email Infrastructure.NT@nt.gov.au or phone 08 8924 4106.
Previous announcements